Jan 9, 2009
18,568
1,368
113
41
<iframe width="640" height="360" src="http://www.youtube.com/embed/gVFTbggHP8Y" frameborder="0" allowfullscreen></iframe>​
Race-Dezert.com had me tell our story to their cameras so that we could share the story with the off-road world! Hope you guys enjoy it!
Once again, thank you to
Epic Electric Vehicles
and
Welcome Duners
for making this happen!
Joey DiGiovanni Heads To The UAE » race-deZert.com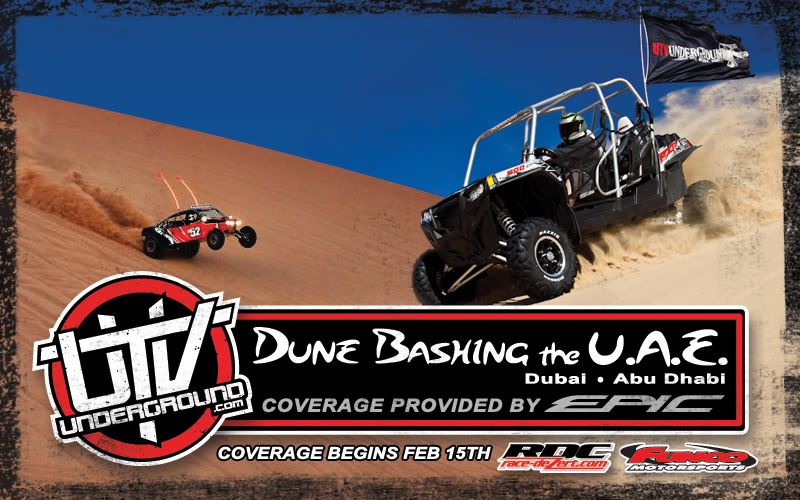 Dune Bashing (dune, dunes) (Bash-Ing):
Dune bashing, also known as desert safari, is a form of off-roading, using an off-road vehicle to explore sand dunes. Whilst in some parts of the world, such as the fragile coastal dunes of Australia, it is illegal, in others such as the Middle East, it is a booming attraction for tourists. In the United States, there are a couple of areas as well, most notably the Silver Lake area in Mears, Michigan and portions of the Glamis Dunes in California.
UTVUnderground.com - Dune Bashing the U.A.E. (Dubai - Abu Dhabi)
Coverage Provided By: Epic EV (Electric Vehicles) // Epic Electric Vehicles
Sponsored by: Funco-Motorsports // Welcome Duners
​
Thats right, UTVUnderground.com is going to go play in the dunes of Dubai & Abu Dhabi curtesy of our friends at Funco-Motorsports & EPIC Electric Vehicles! This all came together about 1 month ago when I got a phone call from my buddy Grant George of Funco-Motorsports. Grant asked if I wanted to go on a trip with him to Dubai & Abu Dhabi to go play in the dunes of the United Arad Emirates (U.A.E.), meet some of his great customers, and reach out to the players involved in the off-road / UTV / buggy craze that has been going off for a couple of years now. Not being the kind of guy to pass up a sweet off-road adventure, especially one of this magnitude said heck yeah, I am in!
Not long after that phone call occurred I was on the phone with the great guys over at
Epic Electric Vehicles
talking about some cool things we have in the works together. The conversation of the U.A.E. trip came up and next thing you know EPIC was offering to be a part of our coverage helping make sure that we are able to share our story as best as we could! So HUGE thank you to
Epic Electric Vehicles
for stepping up and dialing us in and sponsoring the coverage we will provide from the middle east! If you have a minute check out their site and look at all the sick stuff they are building!
Our adventure begins with a 8:00am flight out of LAX on Wednesday February 15th and will carry on to February 27th (2 weeks)!! Its a 15 hour flight direct to Dubai from Los Angeles, CA. Once we land we will head strait to the dunes to a sick "camp" in Liwa. From there the fun kicks off! We are set up to meet and hang with Ahmad and his crazy RZR club simply known as the Dubai RZR Team, the guys responsible for those sick dune ride videos.
I will do my best to update this thread with pics, links, and information as it occurs. We should have WiFi and 3G internet in most areas. I look forward to sharing our adventure with all of you, I hope you enjoy following us along on this once in a lifetime adventure!
UTVUnderground.com is GOING WORLD WIDE!!
Last edited: