Jan 9, 2009
18,568
1,368
113
41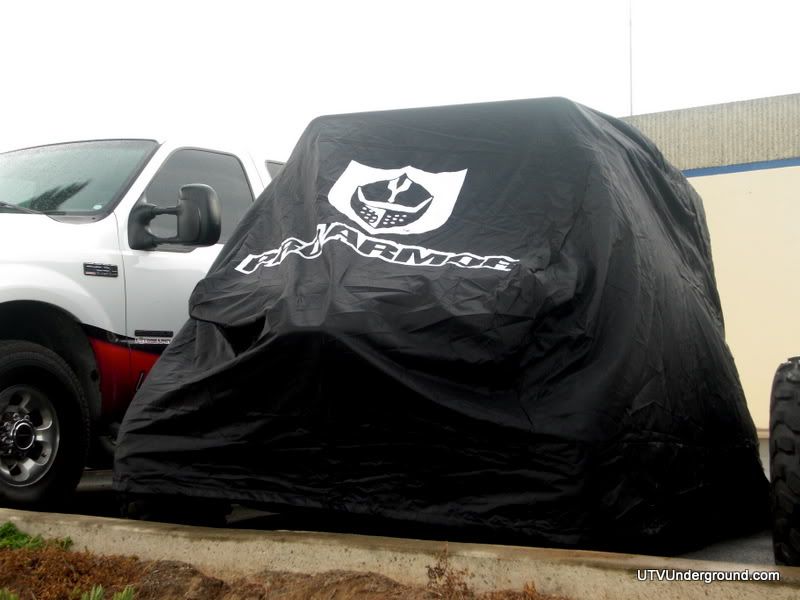 The Pro Armor UTV Cover Fits Most UTV's​
SO I have been lucky enough to have owned one of these Pro Armor UTV Covers for over a year now and let me tell you these things are AWESOME! They are durable and they do an amazing job at protecting your UTV from the elements. It is the best UTV cover I have had and I have gone through others that cost more and didnt fit half as good.
I recommend you get one for yourself. Today it started to rain so I tossed my Pro Armor UTV Cover on the FatRod and it did its job. It goes on easy, has 3 clips in the back for you to clip together to make a nice tight fit so it does not blow off. The Fat rod is a wide car and the cover goes all the way over. It goes most of the way over the RZR4.
Pro Armor is excited about its release of its Universal SxS/UTV Vehicle Cover. Always keeping innovation and style on the forefront we have developed a universal cover that works on most UTV's regardless of aftermarket accessories that you may have added. Have an aftermarket light bar at the top of the roof then simply undo the Velcro and undo the pocket that fits snugly over most light bars. Have an aftermarket roll cage, no problem. Have you installed a 4 seater roll cage, just undo the straps and out pops the section required to fit securely around most roll cages. We have also added straps that allow you to pull any loose material snugly around your vehicle. If you don't have a light bar or aftermarket roll cage, no worries we have straps that keep both extra pockets hidden and the cover will fit securely on your stock SxS/UTV. The cover is made of heavy duty, UV resistant nylon sure to last for years. We have also added elastic around the base of the cover so it fits snugly around your tires with or without a long travel kit. In case that wasn't enough we have also added access windows that stay securely closed with 2 way zippers and heavy duty Velcro. Ever left your keys, wallet or other important items in your glove box or just wanted to leave some items on the seat but never had easy access? No problem, simply undo the easy Velcro straps and unzip the driver side window for easy access to any items or valuables you may have left or put in your SxS. Need easy access to the bed or rear seats in your SxS, we have added a heavy duty window with zipper and Velcro here as well.
PROARMOR.COM – ATV AND MOTORCYCLE ACCESSORIES – THINK IT. MAKE IT. RACE IT.