Feb 21, 2011
4,566
185
63
I wanted to get an official thread going for all future Los Padres National Forest Adopt A Trail activity. La Familia had our first training today with hands-on trail work. Susan B. (OHV AAT Coordinator) was a fantastic trainer and extremely welcoming. We got dirty fast and made quick work of the trail needs today. This is history!! Her first UTV AAT group, and Im guessing, not too many UTV groups are in AAT programs right now. We are hopefully paving the way for our industry in this respect, with members pursuing other trails in different districts. I want to personally thank all the members who came out today, worked your butts off, and left a positive impression with the FS. Our work has just begun.......
We have adopted:
TRAIL 118 , FRAZIER MINE TRAIL, Frazier Park
TRAIL 119 , FRAZIER TIE ROAD, Frazier Park
HERE ARE THE GUIDELINES:
1. Anyone doing "trail work" will need to be on current "roster". PM me your full name and phone if you think you will be doing trailwork in the future (Anyone under 18 doesn't need to be on roster, but is the responsibility of the adult member)
2. If you are going up or planning a trailwork trip, post it up so everyone has a chance to join in if they can. Call Susan ahead of time to see if she has any specific projects needing to be done, and just to let her know you are heading up there.
3. Either give Susan or me your volunteer hours, because I'd like to keep track of them on this thread, and she needs them for her documentation.
4. Tread lightly, be responsible, be safe and HAVE FUN!!
TRAIL SPONSORS:
CanAm/BRP
Rugged Radios
VOLUNTEER HOURS COUNTER: 202 (Updated 10/18/12)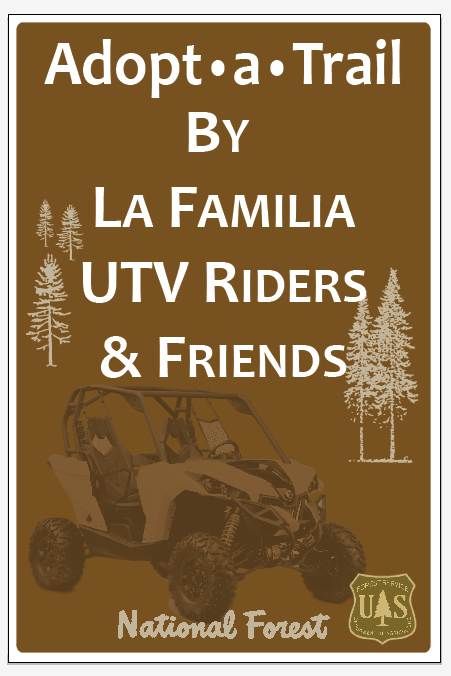 Last edited: